Levi's Pioneer Sessions
is the American brand's way of reaching out across the world on the back of lifestyle and entertainment.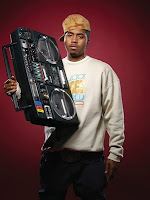 Music is an obvious vehicle, but since Levi's has years of tradition and heritage it chose to add a twist to its
sponsored music campaign
. It asked a dozen of its favorite pioneering artists from different genres to record a revival song that had special meaning to them.
From the rap camp, Levi's chose Nas. That was a credible choice and not too controversial (only a divorce court case to speak of!) I wonder who else was considered. Nas's cover version of Slick Rick's "Hey Young World" brings much-love back to the old skool champ!
The newly-recorded songs were offered as
free downloads
throughout May and June along with exclusive photos and video.
"For more than 15 years, Nas has been a galvanizing force in rap. He's a lyricist of the highest order and a provocateur to boot. His debut album Illmatic remains a hip-hop touchstone, a masterpiece full of short narratives that found Nas telling dark tales of urban desperation. Nasir Jones was 15 when rap legend Slick Rick released his debut album The Great Adventures of Slick Rick. The influence of Rick on Nas is inestimable.
Ricky Walters has a masters degree in the art of storytelling. Better-known as Slick Rick, the England-born, Bronx-raised rapper enjoyed worldwide renown for his novelty songs. But the best of his music involved his helium-voiced flow -slippery one moment, staccato the next – narrating street-level tales about such topics as the short life spans of hustlers. His "Hey Young World" is something of an anomaly in Rick's songbook. While it doesn't sugarcoat the pitfalls of making certain life choices, Rick urges his young listeners to try a different route: "Hey young world," he raps, "the world is yours."

Nas doesn't possess Rick's comic sensibility, but he did inherit from Rick a keen sense for the way precise detail and carefully chosen perspective can enrich a short story, the kind that populated Illmatic and his subsequent work. Nas' re-crafting of "Hey Young World" is true to its source, though its harder, metallic edges suggest a bluntness caused by twenty-plus years without progress." Levi's
The original: Back to school with the Ricky D!
Labels: Advertising, Hip Hop, Levi's, Nas, Rap