Universal Zulu Nation 39th Anniversary - NYC
Despite Hurricane Sandy
and Northeaster (Nor'Easter), the Universal Zulu Nation are celebrating 39 years of "Peace, Love and Having Fun!"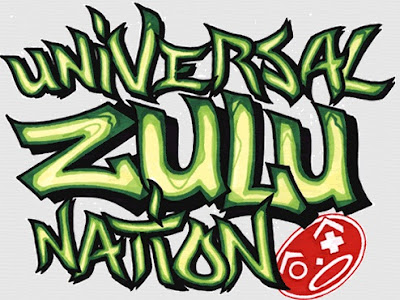 Together forever
the event also marks the 38th celebration of hip hop culture. Huge!
For the latest event news and location information please check out
Tools of War's Facebook
page. Here's a summary of this hip hop weekend:
Friday 9th
Gramacy Theater 8pm-4am (Check out the tickets
here
.)
Electro Funkin Breakz! . Feat. Tc Izlam, Afrika Baby Bam, Soul Slinger, DJ JJ Frost, DJ Nigel Richards, DJ ICue, DJ Power, S.T.R.A.F.E., Newcleus, Cozmo D, Mc Globe, Freedom Williams, MC T.R.A.C. Jamal Jamalski Mitchell, MC Supa, K-Swift, Myzeyesis, DJ Odyssey, DJ Paul-C, DJ Vandal, DJ Wally Pish Posh, DJ Odi, SOUL SONIC FORCE and more! Co-Hosts: MC GLOBE & Freedom Williams
Saturday 10th
Buckwick 12pm-7pm
UZN 39 FAMILY DAY EVENT: BUSHWICK BROOKLYN!
There will be various M.C. performances, D.J. sets, graffiti art showcases, dancing, workshops, arts and crafts, food/drinks and more! FREE entry for all and open for all ages.
Gramacy Theater 8pm-4am (Check out the tickets
here
.)
Feat. Young Guru, Kool DJ Red Alert, GrandWizzard Theodore, DJ Tony Tone, El Da Sensei, King Russ, Samsunn and DJ Ayce International, Tone Trump, Peaceful Order of Warriors and more.
Sunday 12th
National Black Theater 2-7pm
MEETING OF THE MINDS @ the National Black Theater 2031 5th Ave Harlem between 125 & 126 St. NYC. Free to all but donations are most welcome!
S.O.B.s 8pm doors
D.J.s Jazzy Jay, Johnny Juice, Rockin' Rob, Chuck City, Peril (Uzn Australia) Lady Love, Mel Starr, Chuck Chillout, Rich Medina plus performances by The Crash Crew, Son of Berzerk, Tricky T, Black U.N, Queen Bleu Nile, M-7 Rayvon and Johnny-Wa Boogie Boys, Sequence, Donald D, Quintescence, Santa, Zieme, Yungstar 6/3, MC Stik-E. Co-Hosts: GrandMaster Caz & Baron Ambrosia.
Poppa Large!
Here's a dope moment from last year's event. Kool Keith (Ultramagnetic M.C.s) and D.J. Marley Marl (Cold Chillin'.)
Labels: Afrika Bambaataa, Hip Hop, Hurricane Sandy, Kool Keith, Marley Marl, Nor'Easter, Tools of War, Universal Zulu Nation